Teeth Whitening: What Works, What Doesn't?
Posted by DR. MICHAEL LUM on Jan 17 2020, 01:22 AM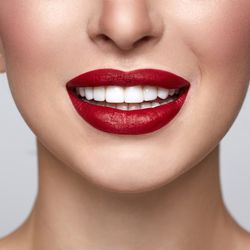 With time, teeth may lose their pearly white shine due to stains from consuming dark drinks or beverages like coffee, soda, or tea. These stains can be controlled with regular brushing. For deep cleaning, you could also get your teeth professionally cleaned with regular dental appointments. Enamel can wear off with time from having acidic foods or by grinding teeth, scuffs, or due to natural aging.
What are the ways to whiten your teeth?
There are two ways to whiten your teeth:
In-office teeth whitening: An in-office whitening treatment is a quick process with a long-lasting effect. The teeth whitening procedure takes an hour or two to produce results. For example, laser teeth whitening.
At-home teeth-whitening: At-home teeth whitening kits can help in removing extrinsic stains (surface stains). The abrasive method, like whitening toothpaste, whitening rinses, and tray-based teeth whiteners are usually recommended by the dentist.
Can we consider both treatments at the same time?
It is better if you just consider one method of treatment to whiten your teeth. In-office teeth whitening treatment allows the dentist to whiten teeth without causing damage to any parts of the oral cavity. But if you decide to have at-home teeth-whitening treatment, the whitening gels would only work on removing extrinsic stains. At-home teeth whitening may not produce results like how an in-office teeth whitening does. In-office teeth whitening procedure uses whitening bleaches that work deep within the pores of the enamel reaching inside the dentin. Also, if not used as per instructions, at-home teeth whitening gels may cause damage to your enamel, irritating the gums.
How do I decide between whitening toothpaste and whitening strips?
Very few dentists recommend whitening toothpaste because they have little or no effect. Some kinds of toothpaste are made of the right sort of chemicals with whitening property, but they cannot provide long-term effects. These kinds of toothpaste would only help in removing the stains that are on the surface of your teeth.
Teeth bleaching products have chemicals like hydrogen peroxide and carbamide peroxide. While dealing with such chemicals, it is essential to be cautious about its side effects like tooth sensitivity. It is better to use whitening trays instead of using whitening strips as they avoid contact with gums and are customized as well. As compared to whitening toothpaste, whitening strips offer better whitening results. It is always advised to consider your dentist's advice.
Do natural whitening remedies work?
Certain bloggers on the internet might claim that using hydrogen peroxide or lemon juice can help you whiten your teeth naturally. But these remedies wouldn't produce long-term effects and may have an adverse effect on your dental health. 
Find the best remedy to whiten your teeth by requesting an appointment with Dr. Lum at (408) 262-1710 in Milpitas, CA.